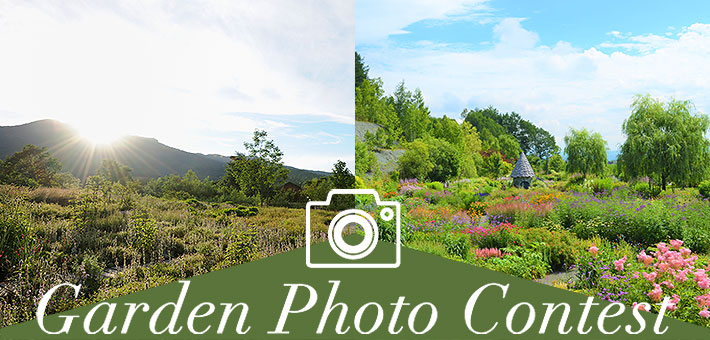 Garden Photo Contest XNUMX
Photo theme:
"Summer · sky · flower"
Application period:
June XNUMX-August XNUMX, XNUMX
How to Apply
In 8 gardens, please take a picture with a rose girls with a garden and apply with Instagram, Facebook, E - mail, or Mail.
Up-photos of plants are not allowed. Please apply only for photos that show where the garden is.
There is no limit to the image resolution and application points. Prizes will be presented to excellent works.
※ The winning announcement is planned around the beginning of October. Individual contact to the winners will be announced on the official website.
Best award
Product worth XNUMX yen (XNUMX point)
Outstanding performance award
Product worth XNUMX yen (XNUMX items)
● Apply from Instagram or Facebook
Follow Instagram Official Account "hokkaidogardenpath" or Facebook official account "Hokkaido Garden Highway", be sure to attach the following three hash tags to the photographed photos and post them on your own Instagram or Facebook.
Facebook
Instagram
#Hokkaido Garden Road # hgp2020 #hokkaidogarden
● We will contact the winners from Instagram or Facebook direct message.
● Even if the application period has passed, please be careful not to cancel follow-up of official account until the winning announcement ends.
● If you can not contact, we will void election.
* When posting from Facebook, please set the privacy setting on the posting screen to "public".
● Apply by e-mail
Please include your name, age, prefecture name and send it to the following e-mail address by e-mail attachment.
● Apply by post
Please include your address, full name, phone number and mail the photograph (A4 size or less) below.
〒 080-0012 Hokkaido Obihiro City Nishi 2 Junan 12 chome
Secretariat of the Hokkaido Garden Highway Council (within the Tokachi Tourism Federation)
* Photos you have applied for will not be returned. Please note.
※ The winning works shall be preferentially available to the Hokkaido Garden Highway and the shooting garden, and shall be licensed for publication on the productions, public relations, websites, etc.
* If there is a person in the subject, ask for your consent. For minors, parental consent is required. We are not responsible for portrait rights infringement.
* Your personal information will only be used for contacting winners and mailing prizes.