Let's stay over the Hokkaido Garden Highway!
Special plan exclusively for garden fans proposed by Hokkaido Garden Highway Official Hotel.
Enjoy the unique plans of each hotel such as the room surrounded by the scenery from the window and floral patterns.
Hoshino Resort OMO7 Asahikawa
We have prepared a garden room where you can enjoy the five senses that you can feel even the color, scent, texture, sound and wind when visiting the garden. (Supervised by Ueno Farm Yuki Ueno)
Asahikawa-shi 6 Taxi 9-chome


793 741 23 67 *
0166-29-2666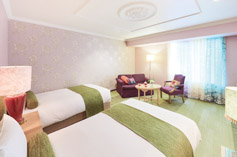 Sahoro Resort Hotel
Convenient for the relay point of the Garden Highway leading from Asahikawa, Furano to Obihiro. Surrounded by woods, it is a space of healing palm wrapped in comfort like a hideout. We also have a small present only for the garden room.
Shintoku-cho Hakuto Kogen


608 892 719 86 *
0156-64-7111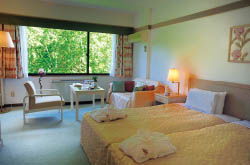 Spa Resort in the Forest Hokkaido Hotel
Garden chairs and umbrellas are provided on the large terrace. Spending time looking out at the hotel's natural courtyard will make you forget you are in the city. Please relax slowly while feeling comfortable wind.
Obihiro west 7 Jinan 19 chome 1 street


124 564 812 41 *
0155-21-0001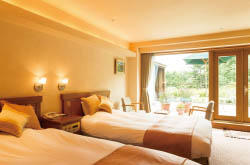 Tokachigawa Onsen Dai-Ichi Hotel Hoshu-tei/Toyo-tei
You can overlook the magnificent scenery unique to the inn built on the banks of the Tokachi River. We recommend the Toyosu-tei guest room with an open-air bath at the "Mall Hot Spring", a Hokkaido heritage site. Please spend slowly with rich natural scenery.
Otofuke-cho Tokachi ri Onsen South 12


369 636 572 72 *
0155-46-2231