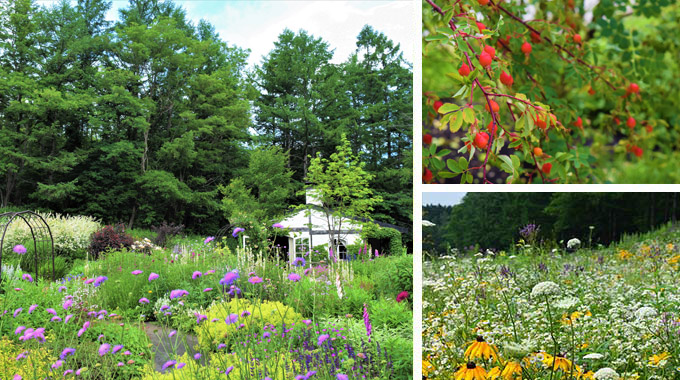 Small diameter to walk while feeling nature
The garden where the TV drama was set is a special space surrounded by trees. While feeling the scent and breeze of the flowers, you can stroll along beautiful alleys where about 450 kinds of seasonal flowers move.
In addition, you can enjoy attractive areas such as the "Rose Garden" where you can enjoy the strength of the original species and the delicate beauty of the Old Rose, and the nostalgic walk path of the wildflowers for the first time.
■Open

April XNUMXth (Sat) -October XNUMXth (Mon)

■Hours

8: 00 ~ 17: 00 
From July 6st to August 30st, from 17:30 to XNUMX:XNUMX
From September 16st to 00:XNUMX (XNUMX minutes before the last reception closes)

■ Fixed holiday

No holiday during the term

■Parking lot

Passenger car 390 units, bus allowed

■Admission

Adult 1,000 yen, primary school student 600 yen, toddler free

■Address

Furano city middle fee
919 553 451 77 *

■ TEL

0167-22-1111 (New Furano Prince Hotel)

■ HP

■ Pet

Pets are not allowed

■ Wheelchair

Wheelchair accessible, Wheelchair lending available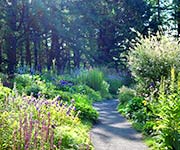 From July XNUMXst to August XNUMXst, we will hold a morning garden (early morning opening) where you can enjoy a walk in the refreshing air of the early morning. A time before breakfast in the time when the flowers are the most lively.
Flower calendar
May - June

Plumonialia
Tulip
Western oedamaki
Lupine
Allium

July - August

Campanula
Va buscam
Monalda
Echinacea
Frox

September - October

Saxisa
Ludovce
Astor
Hennenium
Kimi Fukuga

Updated News
Access Map